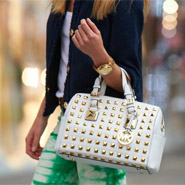 So Costco. They are a huge wholesale place right? You go there to buy 3-thousand gallon tub of maple syrup or a year's supply of paper towels. They even sell electronics and jewelry there. But now they are selling…. Michael Kors purses? Well they claim(ed) to, at least.
In the most recent installment of a luxury brand suing Costco for trademark infringement (see the case of
Tiffany's
), Michael Kors is alleging that an email sent by Costco to its customers offered handbags on sale for $99.99 for Mother's Day, with a picture of a Michael Kors handbag appearing in the email. The pictures of the handbags included Michael Kors signature "MK" tags along with some of the signature designs (I'm not a woman, so no I don't know which designs exactly). What's the big deal you ask, I just got a Michael Kors bag for $89.99 at this smokin' hot sale at the outlet mall last week, and I didn't have to walk past aisles stacked from the floor to ceiling with pallets of drain cleaner! Well, Costco doesn't actually sell Michael Kors stuff so putting a picture of one of the bags in an email and providing a bargain basement price (Michael Kors purses usually retail for anywhere between $128 and $1,395) is kind of somewhat confusing if you were a desperate lad looking for a quality handbag at a reasonable price for your mum. Here's a screenshot of the email that was sent out: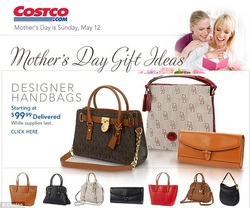 The complaint filed by Michael Kors is pretty cut and dry: Costco is not authorized to sell Michael Kors handbags and by putting images of the handbags in an email and advertising a low price, the email deceived consumers and made other bags being sold by Costco look better. What defenses does Costco have? Apart from "oh, we let a marketing intern put together to email so we didn't even notice the images used in the email, lol"), I can't really put my finger on anything in particular that might save Costco. I'm sure there must have been some documented case of consumer confusion (I myself would have been suckered into capitalizing on such an incredible price). And fair use probably isn't available as a defense because Costco used the mark in such a way that people would probably be confused as to whether Michael Kors purses were actually sold at Costco.
Luxury brand owners of course have a lot at stake. A luxury brand usually has significant goodwill and customer recognition attached to it, have a high probability of becoming tarnished due to the actions of counterfeiters, and is backed by a significant investment in marketing by the brand's owner. The investment backing a luxury brand can sometimes be on-par with that of Fortune 500 brands such as Coca-Cola. To protect luxury brands, the owner might be very selective in the kinds of distributors that they use to sell their products. If a particular product is expensive and exclusive, then it of course makes sense to make the distribution channels exclusive right? For this reason, just like we saw in Tiffany's case against Costco, there is likely to be a lot of mudslinging with Michael Kors saying that Costco is a "low-cost, low-slung purveyor of cheap crap" and that "our goods do not belong next to industrial sized packages of bubble gum". Costco may strike back with some daggers of its own, like it has done against Tiffany by arguing that the Tiffany name itself is generic for jewelry settings.
I'm going to be extra charitable and say that somebody in the marketing department at Costco goofed. I mean, considering the high-profile battle between Costco and Tiffany's, why would Costco want to become embroiled in another tussle with a different luxury brand? At the very least, this episode indicates the importance of brand clearance and communications auditing not only of your own brands as a trademark owner, but also of brands that you reference in your marketing pieces. Any reference to a third-party, particularly one that places significant value on their brand names, could put you in trouble, especially if you aren't authorized to sell the third-parties products.
The takeaway for luxury brand owners? Be careful who you go after. You might find yourself dealing either with the war chest of a well-funded retailer or the stinging rebuke of t.o'ed consumers.
Sidenote (yes another one!):
I actually love going to Costco and think they have an excellent business model. So no snarky comments as to Costco or the layout of its stores, or the wares that it sells should be taken as anything more than an attempt at witty humor to make this topic more interesting as a blog post. For the record, Costco's
all-american chocolate cake
is probably my favorite dessert of all time.