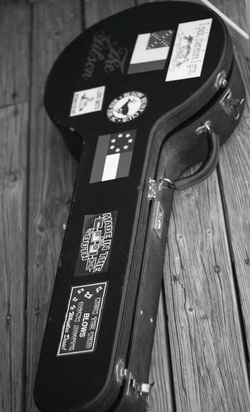 Okay, so I changed the words from the penultimate bluegrass song to make a pun on
a situation down
in North Carolina involving, what else, music and beer. And a little dispute over the name WOODSTOCK.
Apparently, six years ago two people started a small music festival at a restaurant featuring local musicians performing on the back of a flatbed truck, a type of makeshift stage. At the time, the festival was deemed the Popcorn Sutton Jam, the namesake of a local moonshiner. Then this year, following a spate with the widow of Sutton, the event's name was changed to "Hillbilly Woodstock". That's Woodstock as in the music and cultural festival from upstate New York during the rebellious years of the 1960s. This, as you might imagine, created quite a stir amongst Woodstock Ventures, LC, the owner of the WOODSTOCK mark. Actually, it's more like a portfolio of marks that includes everything from loungewear to cultural entertainment services for kids. Living up to their name as zealous protectors of WOODSTOCK trademark supremacy, Woodstock Ventures made sure to get a C&D letter out quick.
Not believing that a little music festival serving a niche listening group could raise the ire of a cultural icon with name recognition from here to Vietnam, the bluegrass people "thought it was a joke". But as we all know from war stories involving owners of storied trademarks, infringement is no laughing matter.
Perhaps the organizers of the North Carolina festival felt they were making a clever reference to the fabled music fest in a bid to inspire thoughts of nostalgia among concert-goers, but in the bluegrass style of music. Or perhaps the plan was to create a weekend of critique of the debauchery which was largely a byproduct of the counter-culture from the real Woodstock. My spiny senses (and a visit to the website) tell me the latter is probably not very likely, and that the point of the music festival is the very orthodox provision of good music and entertainment, no overt intent to comment on anything.