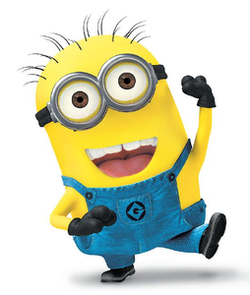 In film, some characters are destined to become popular. Others may have popularity thrust upon them.

But seriously, everybody is familiar with the protagonist of a movie. He has the most time on screen, usually brings about some positive outcome, and is generally one cool operator. One might expect such a character to have a lot of appeal off-screen and to drive merchandising purchases by consumers. Secondary characters may not be as popular simply for the reason that they aren't as well-recognized by the viewing audience and do not play any significant role in the film, which is why it is surprising when secondary characters do acquire success off-screen.

Take Minions from Despicable Me, for example. Yes Minions, those funny yellow beings that follow Gru around and seem to hang on his every word (after all, isn't that what a loyalist does best?) are the subject of a new movie to be released next year. Titled "Minions", the film chronicles the quest of the little henchmen to find their next employer. But that's not the only place where Minions are popping up. Giant balloons, building blocks, talking plastic toys, even cell phone cases, all bare the likeness of the minion.

For the Despicable Me franchise, Minions have burst onto the scene as a hugely popular secondary character. When they made their appearance in the first installment, the director did not think they would become such a key element of the film. Now, 5 years later, Minions are not only a key element of the films, they form a piece of a multi-million dollar franchise that has traversed from the screen straight into mainstream culture.