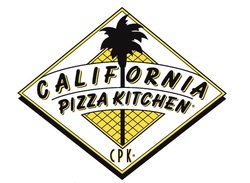 Exotic pizzas, not necessarily straight from Cali.
Geography. It serves a key purpose in our lives. We use it as a point of reference to find other places. We use it in everyday conversations to describe experiences or tell rich stories. Pretty much everybody takes pride in their hometown. Finally, we also use geography to link people or things together (Napa Valley = Wine and Philly = Cheesesteaks). Some companies realize the value in including geographic designators in their names including Cisco (named for the city where the company was founded), California Pizza Kitchen (named for a chain of informal restaurants founded in California), and Motown Records (duh).

A geographic name can make a great trademark. Geographical names serve the same functions as trademarks including identifying sources, guaranteeing a particular quality, and triggering particular expectations or thoughts within a consumer (a feature which serves as a valuable business interest). However, a geographic term that is generic is not protectable. No surprises here, as any word that is generic cannot designate a particular source of goods or services because consumers see the word as a type of categorical phrase, such as "cheese steak" for a type of sandwich. Neither can a geographical name serve as a trademark if the name is descriptive of a particular location known generally to the public and the general public would believe that the goods or services offered by a company originate from the location. Again, no surprises here either as the same rules that apply to general words apply equally to geographic designations. After all, if a word simply describes a location that is known generally to be associated with goods, providing one company with a monopoly on one geographic descriptor is unfair and inhibits competition.