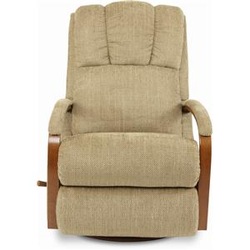 There comes a time in every company's life where it just has to take a step back and figure out how to remain relevant or how to create a new realm of relevance entirely. For La-Z-Boy, that time is apparently right now.

When most people think of La-Z-Boy, they probably think of the eponymously named reclining chairs that seem to swallow their inhabitants whole in an all-encompassing air of comfort. You might also think of your old man, sitting in front of the T.V., controller and potato chips in hand, spilling crumbs all over the seemingly implacable leather grain of the recliner.

And therein lies the current predicament of La-Z-Boy: distinguishing itself as a company that provides more than just recliners for older folks. It's a problem that touches more than just product design and marketing plans, it touches the entire brand. As La-Z-Boy ramps up a marketing plan to make itself relevant to millennials, it is probably also sizing up the issue of how to associate its LA-Z-BOY trademark with more than just recliners. And, of course, I'm sure La-Z-Boy doesn't want to go the way of Zamboni, Yo-Yo, or Thermos, all of which are now generic trademarks, a problem it could very well face if it doesn't branch out and make its mark a little broader.

Or is that even the issue? Does a company have to adopt a group of different, unique marks to avoid association with a single product (and thus the problem of genericide)? Maybe not, if the company can successfully win the battle of public rhetoric and the tendency of many consumers to associate a company with one main product with a single name. But this has been hard to do for many companies where they are forced to combat the ever-powerful marketplace, which may be even harder to sway than public opinion during a political campaign.