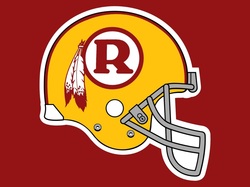 Whoops I did it again: I let this blog go a month without a post. Unwittingly, of course. June was an unusually busy month at the office and I just couldn't find the time to even catch up on trademark happenings, let alone dedicate the shreds of thought necessary to writing witty pieces for this blog.
So what better way to return from a hiatus but to throw it back to a trademark that was created this day
83 years ago: the Washington Redskins
.
Unless you've been living under a rock, you've heard about the struggles the Redskins have had in keeping the registration for this trademark. Most recently, these struggles culminated in a cancellation of the registration for the REDSKINS mark by the Trademark Trial and Appeals Board (TTAB), an arm of the United States Patent and Trademark Office (
whose decision was upheld
by a federal court). But the war isn't over because the team will appeal the cancellation decision to the next highest court, the Federal Circuit Court of Appeals; And (given the caliber of the issues at stake in this case including free speech rights under the First Amendment), perhaps all the way to the U.S. Supreme Court.