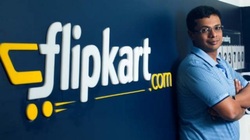 One of the things about being a brand owner is that you have to play hard ball sometimes, or at least that's what most prudent trademark lawyers would advise. But you can cross the line, especially when the enforcement action you are taking is aimed at the wrong target.
Straight out of the book of
Tales of Trademark Bullies
is another case of a brand owner throwing its weight around and quashing all potential threats like Styrofoam cups (yes, Styrofoam is
indeed a registered trademark
). FlipKart, an e-commerce company from India that operates an online megastore selling everything from baby bibs to barbeque grills, has made quite a name for itself since launching in 2007. It is peddling itself as an alternative to Amazon, at least outside the U.S.
But Amazon is still king in India
, apparently.
Regardless, a company with a name like FlipKart is probably going to defend it pretty vigorously, and have a lot of success to boot. Not many everyday Joe's are going to challenge a company's claims when their attorneys come knocking.
Much like SnapChat
, FlipKart is one of those stronger marks, you know,
the ones that are distinctive
because they do not describe the goods or designate a category of products. From the beginning,
the idea was to have a catchy name
suggestive of the features of the service with staying power in the minds of consumers. Of course, being able to register the name under the .com TLD was key, too!