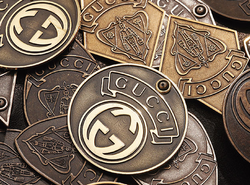 Having a fiancé that is in love with handbags (what woman isn't?), I often find myself in-tow through the leather goods section of fancy department stores or stand-alone stores where Coach and Michael Kors bags are put on display like, well, Tiffany diamonds. Besides looking at the price tags and shuddering feeling the American Express card in my back pocket becoming a hot coal, I often think about the lengths that these companies go to in protecting their brand. Often times in the luxury goods market where there are many competing firms, all of which offer pretty much the same basic type of goods at the same price point, there isn't much to compete on other than the name. Yes, product design is often a point of competition as well, but I'm trying to keep this post simple by only focusing on brand names. If you are a business that is competing primarily based on brand name, you are going to be more than a little concerned about how your brand name is used in the marketplace. One of the greatest examples of how companies obsess over their brand is the franchisor/franchisee relationship in the hospitality business (whether food or hotels). The main flagship brand is often the subject of dozens of pages of restrictions on trademark usage, including everything from product/logo display to partnerships with local community groups to promote the brand.
The rationale for protecting a brand is no secret. If a brand name is the foundation of your business, losing it could mean losing millions of dollars in valuation and being forced to start over. Okay, those might be some extreme results (Thermos lost its brand to genericide but is still recognized as the market leader in insulated food/beverage containers,
without which the world would be a much colder place
), but the result is looming out there like a hawker of goods in a flea market and no brand owner wants to be positioned for failure in a hyper-competitive marketplace.
And that brings us to the problem that many luxury brands are finding themselves in: tracking down and combating online counterfeiters.