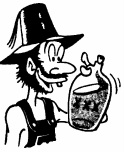 I'm not much of a country music fan, but I listen to a tune every now and then. I'm not a moonshine fan either, so I won't ruminate too much on moonshine or country music. Perhaps the two go together just as well as heavy metal and tattoos? But I do know a thing or two about trademark conflicts.

I just happened to be doing a search for "florida" and "oranges" on the U.S. Patent Office's online trademark database (its a pretty nice tool and a wealth of information, and definitely a great place to start if you want to make sure a choice phrase is available for a trademark, hint hint). I pulled up a recently-filed application for the mark "FLORIDA GEORGIA LINE ORANGE AND PEACH MOONSHINE". As soon as I saw this search record I was like "Huh, isn't there a band named Florida Georgia Line? What would they think about this?"

There is a band; they are called Florida Georgia Line; and, oh yeah, they recently filed a trademark for the same name (and the characters "FGL"). The goods and services (as you might guess) cover sound recordings and entertainment services, namely live performances by a musical band. For all those concert goers that demand keepsakes, the band also filed for protection for select merchandise items like T-Shirts and Hats. They filed the trademark on February 13 of this year, but I know that the band has been using the name FLORIDA GEORGIA LINE far before that date (the band claims October 2009). The owner of FLORIDA GEORGIA LINE ORANGE AND PEACH MOONSHINE filed on June 11.