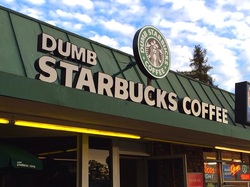 By now pretty much everybody has heard about the "Dumb Starbucks" episode, which pitted a Comedy Central personality against that oh-so-well-known coffee shop with locations on every street corner (if not,
here is a primer
). Was it a publicity stunt masquerading as satire, or was it a legitimate business engaging in an operational style that can only be characterized as avant garde? The conflict may be a short month away from reaching another boiling point (even hotter than the steaming milk that those lattes have). You see, Nathan Wilder, Dumb Starbuck's brainchild (or was it Comedy Central?) is planning on opening another location in Brooklyn soon.
In its first installment, Dumb Starbucks was shut down within a few short days of its initial opening for… health permit violations, of all things. So will the Brooklyn store manage to outlast the short lifespan of the original? We'll see, although it seems like New York City would be a place with health standards for food outlets that are as strict as those in California. I'm pretty sure the Dumb Starbucks brand will be on full display, at least if Mr. Wilder hopes to acquire the same attention that he acquired through his first store and make the same point he set out to make originally.