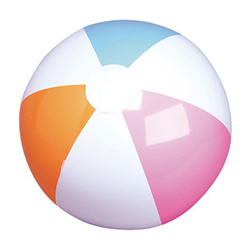 I buy beach balls by the gross because I like bright colors.
Keeping in line with the obligatory blog posts that include not-so-subtle references to summer time things like play pools, umbrellas, and iced tea, I decided to write about something with a beach theme, with a little bit of an intellectual property spin (because we're just that fanatical). So imagine my excitement
when we found another legal commentator dissecting a summer time item
and evaluating it from an I.P. perspective.
The subject item is a….. beach ball! What a quintessential symbol of the summer. In fact,
Time
magazine recently dubbed the beach ball
one of 100 greatest toys of all time
(well from 1923 to present, but who's counting anyways?)
By now you are probably familiar with all the colorful details: a large, inflatable ball with colorful, alternating side stripes, where the article can be used for play at the beach or in water games (see, even that sounded very nerdy!). The point is that a beach ball has been in existence for a long time, and the coloring and design of the stripes along the side of the ball is virtually ubiquitous. Indeed,
Time
magazine (which recently ranked the beach ball as one of the greatest toys of all time) says that the design that utilizes the colors is relatively common.
So the plain color designs on beach balls (no matter what colors are used) are probably not protected by a copyright because they are already in the public domain by virtue of widespread use. Bad news if you are a beach ball maker and you are thinking about getting copyright protection for your very rad beach ball design, because your design is going to make you boocoo bucks. But is that the end of the line for your dreams to become the beach ball rock star?
Copyright only attaches to specific original works of authorship that include specific elements. As we all learned from the
Feist
phone book case, there must be some degree of creativity. Isn't the placement of colored stripes across a beach ball creative? Yes, if you are the first person to do it and you are the actual author (or beach ball artist, in this case). After all, the "sine qua non of copyright is originality" and if your work isn't original, then no copyright protection for you. Sorry to burst your beach ball.
But does this mean your idea to protect the most awesome beach ball design caput? Not necessarily. There's always trade dress protection. If your color arrangement are unique enough to where the design itself points back to a particular source, then that may be enough to get you trademark protection in the colors on a specific product. However, the color arrangement must be inherently distinctive (think of the colorful assortment of LV monograms and ornamental designs that Louis Vuitton uses on its handbags). So the design must indicate a source. If it doesn't then you have to show that everybody knows the color arrangement and knows that it belongs to you. If they don't, well, you are just another ball lost in the sea of like-colored beach balls!
So taking another look at the beach ball example, the simple arrangement of colored panels across a ball is not enough to make the design inherently distinctive because, well, the design is just so darn common. Now if you did some kind of a crazy, swirly pattern of a mishmash of colors and arranged them in a specific pattern across the face of the ball, you might be able to claim that that arrangement of colors is distinctive and capable of identifying you as the source. If not, then you would have to wait a few years and promote the heck out of your beach ball design so that consumers know who you are and that you are connected with the product. You can hit some snags (like having your design be found as functional because it is designed to help people find their lost beach ball in the water, or something utilitarian like that). But if you are set on achieving beach ball economic stardom with an arrangement of the traditional color panels, follow this advice you must.
Now go out there, toss a ball around, and have some summer fun!