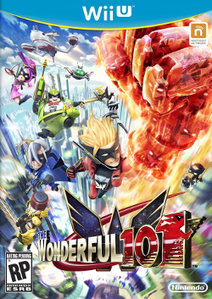 Isn't the opportunity to respond to an office action simply wonderful? Sometimes a response to an office action can be a prelude to a cancellation proceeding if the trademark owner cannot convince the USPTO that a trademark does not create a likelihood of confusion. Let's take a look at how this works by examining a wonderful (no pun intended, I promise) case study.
Just this past week Nintendo filed its response
to an office action issued by the USPTO against the trademark THE WONDERFUL 101, citing a likelihood of confusion with the trademark THE 101, owned by DirecTV. The USPTO cited a likelihood of confusion as the basis for the rejection, specifically that DirecTV's THE 101 mark was registered for providing on-line computer games; and providing a computer game that may be accessed network-wide by network users" (There's more goods specified, but the listed goods are the only ones that were wonderfully relevant to this post, oh yes I did just say "wonderful" again!). Nintendo's application claimed, among other things, video games (simply for reference purposes and in no way for trying to sell video games or turn you into a game nerd,
here is a link to the underlying video game
, a game involving a super hero called "wonder-red" who leads a pack of other super hero figures who have the ability to transform into menacing objects).
Nintendo used all the standard arguments that one might expect in responding to the rejection: difference in appearance between 101 and WONDERFUL 101 (that the word "WONDERFUL" means something spectacular and this meaning is so much more exciting than simply "101") and the fact that the word "WONDERFUL" itself is an awesome word because it is big and has been used without incidence by other trademark owners. (Okay, maybe that last argument isn't standard across all other words because there is something truly wonderful about the word "WONDERFUL", perhaps because it isn't descriptive like saying "big wheel" for a video game about a spinning wheel).
But did Nintendo miss a wonderful opportunity to cancel DirecTV's trademark?
Maybe, maybe not. One of the arguments made by Nintendo is that DirecTV isn't even using the mark THE 101 in connection with video games anymore because the service for which THE 101 mark was used (websites for providing information about radio shows and video games) had since been rebranded THE AUDIENCE NETWORK. This essentially amounts to an argument for cancellation (without the formalities of the actual cancellation filing, which can be kind of expensive). The most typical scenario leading to a cancellation proceeding arises when an application for registration is refused on the basis of a prior registration. So, technically, if Nintendo had some significant evidence that DirecTV was no longer using the trademark, it could have simply filed a petition to cancel part of (or all of) DirecTV's THE 101 mark.
So why a no-go on the cancellation option? Perhaps Nintendo is biding their time and hoping to dodge spending the money on launching a cancellation proceeding (
The Wonderful 101
may be a low-budget game that Nintendo doesn't care too much about, not like it cares about other games that include a short man in a red jumpsuit, at least). Or maybe Nintendo is worried about getting entangled in a fight with a powerful media company who may someday collaborate to distribute Nintendo games? Who knows. One thing that is certain: a cancellation may have allowed the WONDERFUL 101 mark to proceed to registration a lot more quickly than haggling with the USPTO (which no one really enjoys doing)?
For now, this is a valuable lesson about USPTO procedure and the importance of coming to the table prepared with lots of evidence that may be helpful later. If you are DirecTV and use of your mark on video games was important, well you could be facing a loss of your mark if a company like Nintendo wants their mark more desperately then you do.
Sidenote:
Any why didn't the USPTO issue a descriptiveness rejection against THE WONDERFUL 101 (or THE 101 for that matter) based on the connection between the mark and an underlying feature of the product/service? For Nintendo, THE WONDERFUL 101 is used in connection with a video game featuring 100 + 1 superheroes while DirecTV's mark is used in connection with a platform tied to its channel 101. Both of these uses of the mark seem descriptive.
And that ladies and gentleman is response to likelihood of confusion rejections and cancellation arguments 101.