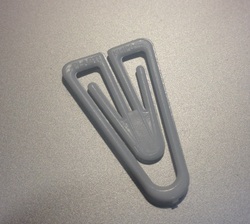 I am in front of the computer most of the day at work. This means my eyes get very tired. Sometimes when my eyes get tired, I feel the need to take breaks. When I take breaks, I sometimes fumble around and find odd things at my desk just to kind of entertain myself and save my eyes from becoming totally blurry. So I picked up one of these paper clip things. (I know what you're saying: you took a five minute break and the best thing you could think to do was play with a paperclip?!) What can I say, I'm a true paper pusher!

Back to the paper clips, you might have seen them before. They don't have the ordinary shape of regular metal paper clips and they are plastic which means they won't discolor paper when you attach them to paper. The name on the top of the clip says "Plastiklips". What an exciting (and nuanced name)! Its genius, I mean why didn't I think of it? Calling a plastic paper clip "Plastiklip". So fanciful. So catchy. So descriptive.

Then I got to thinking (also while on my break, well maybe on my next break): did somebody get a trademark on this? So being the trademark buff that I am, I made a trip to the USPTO website and ran a search for "Plastiklips" and, sure enough, up pops this trademark registration: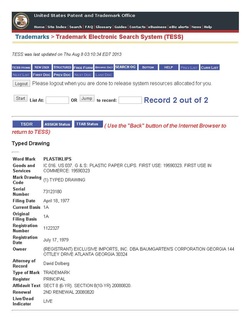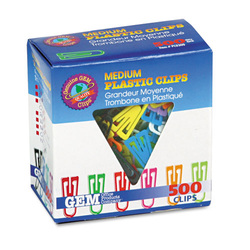 Now this just seems odd to me because, well, the trademark is registered for "plastic paper clips". On the principal trademark register, no less. A trademark , "plastiklips" for "plastic paper clips". 'What's the big deal?' you might ask. Generally, a trademark cannot describe the goods that it is used on. Marks like "Blackoil" for goods such as synthetic oil that is black in color are not eligible for registration, at least not right off the bat. These kinds of trademarks are only eligible for registration if they have acquired what is called "secondary meaning", meaning (sorry) that consumers attribute the trademark to a particular source. Descriptive terms which have acquired secondary meaning (and are now considered trademarks) include HOLIDAY INN, AMERICAN GIRL, and ALL BRAN.

But not every trademark can acquire secondary meaning. It's not one of those things that just happens. Trademark owners sometimes have to invest significantly in marketing and may even have to obtain a consumer survey (which can be hugely expensive). Seem like an unfair burden to place on someone who put their creative juices to coming up with a slick trademark? Imagine the hardships in the marketplace that would ensue if words that described a class of goods was trademarked? Wouldn't other makers of products who wanted to describe their goods using the same descriptive word run afoul of the trademark owners' rights? This problem has cropped up time and time again where one company has a descriptive trademark and they try to prevent some other company (usually a competitor in the same field) from using the trademark.

This strategy of enforcing a descriptive mark can get dicey, though, because a competitor that is using the descriptive trademark on their goods could file a petition to cancel the trademark owners' descriptive mark. And unless the trademark owner has some pretty compelling evidence showing that the trademark has acquired secondary meaning, the trademark could be invalidated for all to use. This is exactly what happened in the case of the battle over the mark FISH FRI where Zatarains' trademark registration for the FISH FRI trademark was cancelled by another food company which wanted to use "FISH FRY" for food frying stuff. Zatarain's got fried alright!

Getting back now to my paper clip inquiry, what of the viability of the PLASTIKLIPS trademark? I found this other paper clip company that makes the same type of plastic paper clip, but uses the name "Plastic Clips". Of course, they haven't tried to get a trademark for this name (any attorney that took that case would be engaging in gross malpractice), but isn't "Plastic Clips" pretty much identical to PLASTIKLIPS? Seems nearly identical phonetically and conceptually. If the two trademarks are similar, that seems like a recipe for an infringement suit doesn't it? Unless you have a descriptive trademark like PLASTIKLIPS and you are holding on to that registration as the last great vestige of hope in your paper clip empire!

Seriously though, I don't think I would waste the money on a lawsuit against a company that used the phrase "Plastic Clips" for their product, especially if I knew I was going to lose. This all begs the question though: why does the owner of the PLASTIKLIPS mark continue to renew their trademark? Maybe it's a clip of nostalgia on the part of the owner. Who knows.

Anyways the takeaway is that if you are going to use a descriptive word or phrase as your trademark, make sure that you are ready to expend the significant resources that it takes to prove that your mark has acquired secondary meaning. As they say in sports, go big or go home.