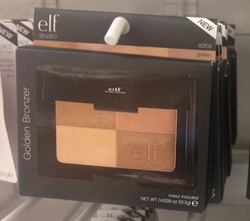 In the last post I discussed the oddities found in the fine print on the side of a cosmetics package. We found a funny statement that seemed to declare that the package design for the box shown at rights is protected as a trademark. Apart from the strange wording of this notice, the fact that the package design should be protected by a trademark seems, well, as artificial and absurd as putting on too much makeup. There is of course nothing wrong with protecting package design as a trademark. Many companies protect the design of their packages, containers, and even certain design features of the product itself as trademarks. After all, just as a word, logo, or slogan can identify a company as the source of particular products or services, the packaging enveloping a product can also identify the company that made the product. Often, product packaging is even more effective. Maybe thats what prompted branding expert Martin Neumeier to say in his book The Brand Gap that packaging "is the last and best chance to make a sale."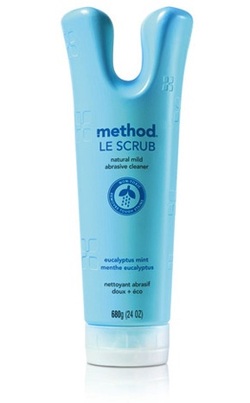 Method's "Le Scrub" Product Packaging: What the heck is it?
If product packaging is so important and if it can be protected as a trademark, why is it so absurd to think that the packaging for makeup could not be a trademark? Well, it still can but just like a person who uses way too much makeup, the candidates for trademark protection in product packaging are usually easy to spot. Coke's contoured bottle is perhaps the most well-known example of distinctive product packaging. Other candidates include the layout of Apple's retail stores, Method's Le Scrub bathroom cleaner (shown at left), and a Vodka bottle that shows a replica of a human spine inside of the bottle leading up to the cap.

What most of these product packages have in common is that they are unique in their design and they stick out prominently on store shelves (or in the case of the Apple store, in a mall's facade). In trademark parlance we call this "distinctiveness" or more appropriately "inherent distinctiveness". Inherent distinctiveness means that a product's source is capable of being recognized instantly by consumers. Being inherently distinctive is a goal that many trademark owners strive to achieve in conceiving their mark because a mark that is inherently distinctive is instantly protectable. Otherwise, a trademark owner has to use its mark for a period of time before acquiring secondary meaning, or the state where a mark, having been used in commerce for many years, is now attributed to the trademark owner by consumers. And its not just simple, rote use of the trademark in commerce that determines secondary meaning. Indeed, as a trademark owner you must prove market recognition of your trademark with the company by showing many years of advertising expenditures promoting the mark, sales success, and even consumer studies measuring the brand perception of consumers (These surveys aren't cheap. They can run anywhere from $25,000 to $150,000 depending on what the underlying product is).

Inherent distinctiveness is not attributed to any old product packaging. A good rule of thumb in determining which trademarks are inherently distinctive is to gauge whether the design of the packaging is so arbitrary or unique in relation to the underlying goods that it would allow the packaging to be instantly recognizable to consumers. Packaging that fits this bill would be a bottle for drain pipe cleaner that is shaped like a pipe, or a package for clothing that is shaped like a piñata (the underlying shirt would probably be best advertised as a Party Shirt in such a context). In other words if the packaging is uncommon enough that other companies would not think to use the same type of design for their boxes or bags, then the packaging is likely distinctive enough to qualify for trademark protection.

But is a simple, sleek case showcasing the underlying makeup shades necessarily distinctive enough? Apparently, e.l.f. isn't the only makeup company that uses a "stylish" black and transparent case to showcase its color palettes. In fact, many other cosmetics companies use the same sort of design for their packaging. Get a load of all the cosmetics packages below: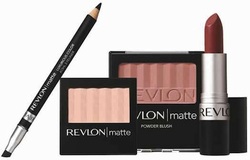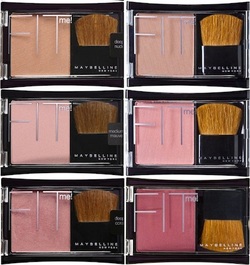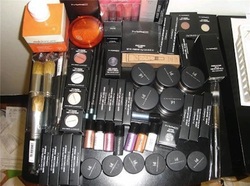 If many other cosmetics companies are using the same kind of designs for their product packaging, it doesn't seem like a simple black box with a transparent cover showing all of the makeup colors should be protected as a trademark. Giving one company's packaging protection would mean that other companies using a black box are infringing. If a consumer is unable to tell the difference between two different companies packaging but makes purchasing decisions more based on the actual brand name that appears on the packaging, it stands to reason that the brand name (and not the simple, common-place product packaging) should be protected as a trademark.

The bottom line is the more unique product packaging, the more it stands out from competing companies' packaging. The more the packaging stands out from a competitor's, the more likely it is that the trade dress is inherently distinctive. So if your goal as a company is to distinguish your product by (among other things) using a unique box or package, make sure the design is driven by this goal and that the packaging doesn't seem to blend in with others. In other words, put lots of make-up on it!