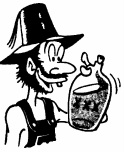 I'm not much of a country music fan, but I listen to a tune every now and then. I'm not a moonshine fan either, so I won't ruminate too much on moonshine or country music. Perhaps the two go together just as well as heavy metal and tattoos? But I do know a thing or two about trademark conflicts.

I just happened to be doing a search for "florida" and "oranges" on the U.S. Patent Office's online trademark database (its a pretty nice tool and a wealth of information, and definitely a great place to start if you want to make sure a choice phrase is available for a trademark, hint hint). I pulled up a recently-filed application for the mark "FLORIDA GEORGIA LINE ORANGE AND PEACH MOONSHINE". As soon as I saw this search record I was like "Huh, isn't there a band named Florida Georgia Line? What would they think about this?"

There is a band; they are called Florida Georgia Line; and, oh yeah, they recently filed a trademark for the same name (and the characters "FGL"). The goods and services (as you might guess) cover sound recordings and entertainment services, namely live performances by a musical band. For all those concert goers that demand keepsakes, the band also filed for protection for select merchandise items like T-Shirts and Hats. They filed the trademark on February 13 of this year, but I know that the band has been using the name FLORIDA GEORGIA LINE far before that date (the band claims October 2009). The owner of FLORIDA GEORGIA LINE ORANGE AND PEACH MOONSHINE filed on June 11.

But so what, right? How could there be any overlap between the two trademarks when one is clearly used only with music and concerts, while the other is used for beverages? Why doesn't FLORIDA GEORGIA LINE just let it be and let the moonshine maker put his windows down and cruise? Well, there could be some overlap. A name like FLORIDA GEORGIA LINE seems really distinctive. And in the world of trademarks, distinctive words and made up phrases (does anybody really know what FLORIDA GEORGIA LINE means?) go a long way in obtaining the greatest amount of protection. Because this name is so distinctive, it would seem that other companies should not be allowed to just take the main portion of the name and slap something else on to the mark (like ORANGE AND PEACH MOONSHINE). For this reason, the trademark office and courts are generally critical of trademarks that incorporate portions of another mark. Think about what you would do if you saw FLORIDA GEORGIA LINE on a beverage container in the supermarket.



Its confusing to say the least. After all, how many bands put brands on particular goods that could later be sold to fans? Looking at the case of FLORIDA GEORGIA LINE, my interest was piqued, so I poked around to see whether any other popular musical groups had experienced similar attempts by others to capitalize on a popular name. Because we are in the fleeting months of summer and everyone will soon long for those lazy days by the pool and days of continuous sunshine, I picked a band that is the quintessential symbol of summer: the Beach Boys! Brother Records, a record label and holding company that owns the rights to THE BEACH BOYS trademark, owns a trademark for the mark THE BEACH BOYS for CDs and other related items. THE BEACH BOYS mark has of course been used since at least the 1960s, when the band first started selling records. As a result of this exclusive use, and because the band has received tremendous fame for their many hits (after all, what says American rock music more than The Beach Boys?), THE BEACH BOYS trademark is a strong trademark and one that is likely to be protected from many other uses, even those that do not overlap with the flagship goods which the trademark is used with (music and stuff).

Fast-forward to 2008 and we see that another person filed a trademark application for the mark THE BEACH BOYS GOOD VIBRATIONS, apparently for some kind of bar and restaurant. Of course, the trademark office objected to the application (by issuing what we trademark lawyers call the dreaded "office action") finding that the mark suggested a false connection with The Beach Boys. So the applicant had some 'splainin to do. In that case, the trademark office was concerned that consumers would believe there was some kind of connection between the applicant and The Beach Boys, given that the applicant wanted a mark that included not only the name of the band but also the title of a well-known song by that band. Seems reasonable enough, right? The applicant had to show that the owner of THE BEACH BOYS mark consented to the applicant's. This is exactly what the applicant did: they got a consent agreement from Brother Records consenting to the use of THE BEACH BOYS mark by the applicant in his mark. As far as what went down behind the scenes, no one knows. Maybe Brother Records and the owner of the restaurant/bar got together on the beach and some money changed hands. After all, the potential economic value of being able to exclusively use a mark is HUGE because a well-known or popular group, when such group name is applied to beverages or merchandise, could pique the interests of the listener base and bring in residual income for the band.

With that analogue downed like a flask of fine ale, lets get back to our moonshine. So what happens from here? Obviously, Florida Georgia Line hasn't been around that long, at least not as long as The Beach Boys, and they haven't had as much fame as The Beach Boys (no, that is not a dig against country music, its a simple fact). But the band is public enough and has somewhat of a high profile, which could be enough for the trademark office to find some risk of confusion amongst consumers as to a connection between Florida Georgia Line and FLORIDA GEORGIA LINE ORANGE AND PEACH MOONSHINE. If there is such a connection, the applicant for the trademark will need consent from Florida Georgia Line.

We'll have to see how this shakes out. But for now, its Friday, so grab some moonshine and chill!