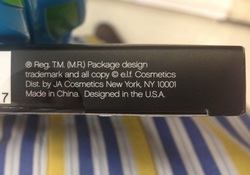 Sometimes when I go to the store I pick up random things and read the labels. When I was younger, it used to be a form of entertainment before smart phones were created because it helped me fill the time while I stumbled through the store, parents in tow, struggling to find anything to keep me from lapsing into a state of crushing boredom. Even today, despite all the conveniences (and escapes) brought on my modern technology, I still like to pick up different items and read the labels, even if I have absolutely no interest in purchasing the product. So this past weekend, a trip to Target with my significant other presented no opportunities for variation from this trend.

Walking down the cosmetics aisle, I came upon this label while looking for some makeup stuff (concealer, whatever) for my significant other. Take a look at what the label says. Now read it again. Am I the only one confused by the statement "Package design trademark and all copy © e.l.f. Cosmetics"? Maybe it's the way I read, but it seems like the maker of this cosmetic is trying to say that the text and stuff that describes the cosmetics (including pictures) are copyrighted and the package design is trademarked. Or is it that the package design, trademarks, and all text are copyrights? Still a third way to look at it could be that the ® symbol in front of this whole clause is referred to the package design and all other trademarks. But there is still that phrase "and all copy" to haggle with.


I have a headache now (as I'm sure you have as well). So let's walk this back a little bit and sort things out. When a manufacturer uses fine print on their packaging, the goal is typically to inform consumers that certain things on the packaging are property rights of the manufacturer. This includes logos and words that are used as trademarks, blocks of text that are protected as original works of authorship (copyright) and, if the something that makes up the product is covered by a patent or two (or a hundred), you might see a statement about the patents that cover the product. The fine print might say something like this:

© 2007 Acme Company
U.S. Pat. 9,999,999
"Acme" is a trademark of Acme Company

So each type of item that a manufacturer is laying claim to gets its own symbol, so to speak. Spaced across different lines, it's easy to see what is protected, if you are a competitor seeking to determine exactly what it is you cannot copy or even resemble. Everyone else knows what rights you are claiming, and a court will award you additional damages because the person who copied you knew that there was a trademark/patent/copyright protecting an aspect of the product. After all, that's one of main motivations for putting this kind of fine print on your packaging.

If you put the fine print on your box, you have to make sure it is correct. Providing broad statements like "All copy, logos, and product © ® and Patent Pending, Acme Company". What kind of a notice is that? It doesn't really do a good job of telling consumers or competitors what is being protected. Notice statements have to be clear about what is protected, meaning that you have to clearly articulate your rights. It's a lot like describing a plot of land in a deed: it lets others know what rights or yours (or theirs).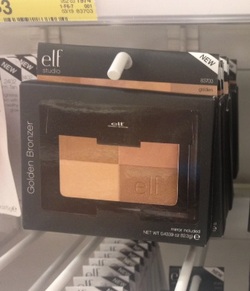 This brings me to another beef with this label: it says absolutely nothing about which trademarks are registered and which aren't, never mind the whole problem of whether the packaging design is distinctive enough to even be considered a trademark (as you can see from the adjacent picture, the product packaging is actually quite basic and non-distinctive). As the trademark statute clearly states, a registrant of a mark registered in the Patent and Trademark Office can give notice that the mark is registered by displaying with the mark the words "Registered in U.S. Patent and Trademark Office" or something similar. The way I read the label on this cosmetics packaging, I can't make heads or tails about what the ® pertains to. Is it "E.L.F."? Is it just the symbol "e"? Is it "Golden Bronzer"? Or is it indeed the product packaging? I did a search of the USPTO database of trademarks and found that it is indeed "e.l.f." But a competitor would never know whether other elements, like the "e" logo, are trademarked.

And a lack of notice regarding which words, symbols, or logos are protected by a trademark can burn you later on if you are a plaintiff trying to recover damages from a competitor that used something of yours that you thought was protected by a trademark. For example in a recent case in Indiana involving a maker of machine pressure gauges with ornamental lens designs and a competitor, a federal court hinted that the defendant could avoid liability for infringement of the plaintiff's ornamental design (which the plaintiff claimed as a trademark) if there was no notice provided by the plaintiff that this design was a trademark. According to the defendant in this case, because the particular design that was copying being copied was an older generation lens design that was no longer used, the defendant should not be liable for damages, at least for all of the years that they used the lens design without notice from the plaintiff that the lens design was protected as a trademark.

Thus we have a similar issue that could unfold here: not knowing what is protectable by trademark, a competitor could use the same packaging design and later assert that they did not know what was protected by trademark. A court could read the fine print slapped on the packaging by E.L.F. Cosmetics and find that the notice is insufficient. E.L.F. would be dead in the water.

What E.L.F. could have done is let an 8th grader advanced composition student write the trademark notice statement. If they did that, they might end up with a clear statement like the following:

© J.A. Cosmetics. All rights reserved.
E.L.F., "E", and the product packaging are trademarks or registered trademarks of J.A. Cosmetics.

So there you have it. Because this case study is so unbelievable (and presents other puzzling issues), I will be looking at whether the relatively generic look of the packaging design can even be protected by a trademark.