It is often said that imitation is the sincerest form of flattery. That might be true in many aspects of our life, but it isn't always true for trademark owners, least if the person doing the flattering is ripping you off somehow. But how close does something have to be to truly be deemed an imitation? In the arena of trademark law and unfair competition, you might sometimes be surprised about how close you can actually get to using a trademark that is loosely based on another trademark. To see what exactly I'm talking about, lets grab the proverbial cart and go on a little shopping spree at Trader Joe's.

Some people (except those on the West Coast, where Trader Joe's has about 200 stores) may not know what Trader Joe's is. Trader Joe's is a specialty grocery store. They sell a lot of the same things that big-box grocery stores do, but they have specialty foods and a lot of the stuff they sell carries the "Trader Joe" name specifically. It is what you might call a boutique grocery store because most locations are small and they cater to customers with specific tastes. In recent years, the store has garnered somewhat of a cult following given the unique products that the store offers including blueberry cultured coconut milk (sounds kind of weird) and spicy seaweed ramen (sounds really weird). My personal favorite is the chipotle seasoned almonds, but I digress.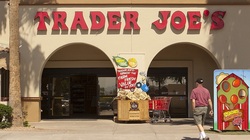 Trader Joe's, maker of Joe-Joe's and other delicacies meet....
Trader Joe's has a significant presence on the West Coast, but it does not yet have a location in Canada. Apparently somebody wanted to change that. A guy in Vancouver decided to open up his own boutique grocery store branded as "Pirate Joe's". Unlike Trader Joe's, Pirate Joe's does not sell its own unique line of products branded with an in-house trademark. Instead, to make the play on words complete, Pirate Joe's sells Trader Joe's-branded goods. You see Pirate Joe's (owned by a bloke named Michael Hallatt, himself one of the aforementioned connoisseurs of Trader Joe's) mission is to make it more convenient for certain Canadian consumers to get the unique Trader Joe's stuff they love. Hallatt fulfills this mission by buying groceries directly at Trader Joe's in the U.S. (usually about $4,000 - $5,000 worth each trip) and returning to Canada and selling those goods through Pirate Joe's location, usually with a $2-$3 markup. The business doesn't really make any money given all of the overhead costs, but who cares? This guy is brining delicacies such as blueberry cultured coconut milk and dark chocolate truffle brownie mix (another personal favorite) to the masses in Canada.


Enter Trader Joes with a trademark suit earlier this year in a U.S. Court (even though the infringement is taking place in Canada, but more on that below). Trader Joe's beef? You can probably guess what. But to distill it to a five-second-read snippet: they thought that Pirate Joe's was attempting to pass itself off as a legitimate Trader Joe's. Trader Joe's argument? By prominently displaying goods branded with Trader Joe's logo and using a name that is similar to Trader Joes, Pirate Joes is infringing on Trader Joe's trademark rights and giving consumers the false impression that Pirate Joe's and Trader Joe's are somehow affiliated. In legal parlance, another phrase for this injury is "unfair competition"and it refers to a situation where a competitor, by engaging in certain business practices (usually involving the unauthorized use of a trademark of another), makes it impossible for another business to compete on equal and fair terms.

How is Pirate Joe's engaging in unfair competition when the store is merely selling Trader Joe's stuff (which was legitimately acquired), in a market where Trader Joe's doesn't even have a store? That's a darn good question and it is probably what prompted the court in Washington to dismiss the lawsuit. The official reason for the dismissal was that the court in the U.S. lacked jurisdiction. But of course. Generally, in order for a federal court in the U.S. to have the power to decide a dispute, the court must have power over the person and power over the dispute at hand. The court definitely had power over the person (Hallatt in this case) because he traveled in and out of the U.S. so frequently. But because most of the activities took place outside the U.S. and the extent of the injury wrought to Trader Joes was low in this case, the court did not have power over the dispute. To be clear, the court did not dismiss the case on the merits (i.e. finding Pirate Joe's not liable for anything). If the case was brought in the proper court (and that court may or may not be in Canada, hint hint), then this case might end up differently.

Enough of the boring procedural stuff. Jumping into the essence of the dispute (which is the equivalent of Trader Joe's delicious brownie truffle mix), Pirate Joe's really wasn't doing anything to harm Trader Joe's in this case. Let's take Trader Joe's principal complaint: trademark infringement.

Pirate Joe's Infringes on TRADER JOE'S Trademark
Trader Joe's argues that by purchasing products from Trader Joe's stores, transporting the goods into Canada, and selling the goods in a non-Trader Joe's location for significantly higher prices. Notice that the goods are sold in unaltered packaging and are sold in the same kind of environment that they would be sold in if originally purchased at Trader Joe's.

Trader Joe's principal concern appears to be that consumers, by seeing stuff bearing the Trader Joe's logo coming from a location that uses similar signage and a similar store design (but for the name hanging above the door), may think that Trader Joe's is somehow affiliated with Pirate Joe's. This association could be bad, for instance, if a customer buys a stale box of Trader Joe's famous Joe-Joe's or if a frozen mac and cheese dinner from Trader Joe's has freezer burn because it sat on the shelves at Pirate Joe's for a shade longer than it should have.

The concern about products being altered by virtue of their transport (and the altered products ultimately harming consumers) seems like a legitimate argument. After all, the goal of trademark law is to prevent consumer confusion and harm in the event that they purchase a product bearing a certain trademark, where the trademark is really counterfeit. But are consumers really so naive to think that Trader Joe's and Pirate Joe's are at all related to each other? It doesn't seem like the practice of selling products with Trader Joe's mark is something that would confuse consumers, at least if consumers knew they weren't really purchasing products from an authorized Trader Joe's store. And they apparently did know in this case because (1) the name of the store is "Pirate Joe's", with no similarity of appearance between Trader Joe's and Pirate Joe's storefronts; (2) Pirate Joe's proclaims that it merely sells Trader Joe's products, not that it actually makes the products; (3) there is no claim that Pirate Joe's is affiliated with Trader Joe's and (in fact) Pirate Joe's owner painted the message "Unauthorized. Unaffiliated. Unafraid" in front of Pirate Joe's.

Is all that enough to actually distance Pirate Joes from Trader Joes? If a consumer encounters Pirate Joes store, they might be confused about the affiliation with Trader Joes if they see that the store sells only Trader Joe's products. If a consumer does believe that there is some kind of affiliation because Trader Joe's trademarks are all over the store and the store name is kind of similar to Trader Joe's, then there is some type of confusion. As a result, Trader Joe's does suffer some damage to its trademark because a bad experience by a customer of Pirate Joe's translates to Trader Joe's, if the two stores are related in the eyes of the consumer.

But wait a minute. If Trader Joe's already sold the products initially to Pirate Joe's at full price, didn't Trader Joe's trademark do all the heavy lifting? This is one possible defense that Hallatt could raise. Properly known as "first sale" or "exhaustion" doctrine, a trademark owner's authorized initial sale of its product extinguishes the trademark owner's rights to maintain control over who buys, sells, and uses the product in its authorized form. Under this rule, Trader Joe's could not restrict the later sale of its products by people who purchased initially from them. As one court put it "it is the essence of the first-sale doctrine that a purchaser who does no more than stock, display, and resell a producer's product under the producer's trademark violates no right conferred upon the producer by the Lanham Act. When a purchaser resells a trademarked article under the producer's trademark, and nothing more, there is no actionable misrepresentation under the statute."

So while the Pirate Joe's is making money off the sale of products branded with the Trader Joe's trademark, the activity itself is not infringing on the rights of Trader Joe's. Without doing something more (perhaps by wholesale copying of Trader's Joe's store designs and bags and selling Pirate Joe's independently developed products with the Trader Joe's mark), the activity appears to be within the bounds of permitted behavior, at least under U.S. trademark law.