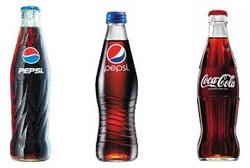 The famous argument between Coke and Pepsi as to which beverage is more appealing to consumers has raged on for at least 100 years. The good-natured competition between both outfits as to whose bubbly, caffeinated libation is the supremo has touched pretty much every point of product feature imaginable. The latest is the battle over bottle shapes.
Coca-Cola's bell-shaped contoured bottle is pretty well recognized by many consumers in the US and, arguably, internationally. It is the subject of many trademark registrations in the US and other countries. "Trademarks on product packages or shapes?" you might ask? Yes, actually; registration of a package design is an invaluable tool that makers of consumer goods can (and should) use as part of their trademark protection strategy.
New Zealand is a country where Coca-Cola heavily markets (and has also released some pretty unique flavors like
Raspberry Coke
). Pepsi also sells many soft drinks in New Zealand through a subsidiary, Frucor Beverages. You probably wouldn't be surprised to hear that Pepsi and Coke are just as ruthless in their competitive efforts in NZ as they are in the US. Pepsi's choice to adopt a contoured bottle design that is similar to Coke's ever popular bell-shaped bottle is a pretty good indication of the level of competition. Okay, maybe similar was too strong of a word to use. After all, the court only found one real commonality between Coke's bell bottle and Pepsi's design and Pepsi did place its logos on the side of the bottle, perhaps to dispel any notion that it was obviously copying Coke's bottle design.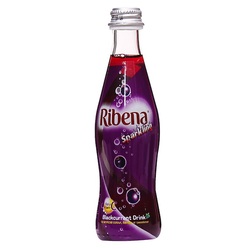 Sparkling Ribena Beverage Bottle (look familiar?)
Essentially, according to Coke, Pepsi thought they could pull a fast one over Coke by simply taking the previous Pepsi bottle design, tweaking it to make it ever so slightly different from the bell-shaped vessel of Coke goodness, and putting the Pepsi logo prominently on the side of the bottle. It worked pretty nicely, at least in New Zealand. Last month the High Court (NZ's equivalent of a federal district court in the US) deemed that Pepsi's bottle design did not infringe Coke's registrations in its bottle design in NZ. According to the judge there was no likelihood of confusion posed by Pepsi's bottle design because the primary feature that the bottles had in common (the waist, you know that middle part of the bottle that would hold up a pair of jeans, if bottles wore jeans) was not enough to make the two bottle designs similar. Indeed, the waist itself was a feature that is extremely common in the trade. Some of the other differences that the judge cited were a lack of fluting on the Pepsi bottle, no horizontal "belt" around the waist, and the Pepsi bottle's neck is different from that of Coke's bell bottle.

The court seemed to be saying that most of the features that Coke was trying to protect (the curved waist, the contoured shape from the base of the bottle up to the waist and then again from the waist to the tip) are so common among all beverage containers that they are essentially a functional feature, unprotectable as a trademark. The court also (pursuant to NZ's statutory framework) concluded that reasonable consumers would not confuse Pepsi's bottle with Coke's bottle because the average consumer, with their "imperfect recollection" would only remember certain features from Coke's protected bottle design, features which were not embodied in Pepsi's design.

What about Pepsi's prominent use of its logo on the side of the bottle? Isn't that enough to demonstrate to consumers that Pepsi's bottle isn't from Coke? According to well-founded law in both NZ and the US, courts aren't supposed to place any significance on the combined use of one logo with an imitated logo. After all, once a defendant uses someone else's trademark commercially as a mark of the defendant's, all bets are off; consumers at that point have already been drawn to the defendant's mark by virtue of the mental connection, the connection between that mark and the true source.

But I wonder if there's any there there, that is whether the court (even though it said it did not) gave more shrift than was necessary to Pepsi's inclusion of its own logos on the side of the bottle. If the court evaluated the difference between Pepsi and Coke's bottles through the lens of a consumer's imperfect recollection, it would be easy to give logo's more weight in the likelihood of confusion analysis. Pepsi's bottle still sports features that the Coke bottle is most well-known for, including the curved silhouette. But this silhouette is now so common for bottle shapes now that it may be de jure functional. De jure functionality means that competitors must use a particular shape in order to compete effectively. Maybe consumers are so used to tapered silhouette shapes for bottle designs that they demand this particular shape for beverages (and will not buy sodas that don't come in these kinds of packages). An even more compelling argument for the functionality of the silhouette shape that Coke seeks to protect as a mark might be that soda machines are designed now to accommodate tapered bell-shaped silhouettes

I can't help but wonder how this case would have turned out in the U.S. Maybe the U.S. is the next stop on this bubbly expedition by Pepsi across the world to prove that Coke's trademark rights in its bottle design may be a little narrow around the waist. The most interesting question in my mind is whether the Coke bottle silhouette is a trademark and whether the proliferation of other similar silhouette bottles (like Pepsi's) is likely to confuse a consumer.

We won't shake up the bottle anymore for fear of exploding contents.