I don't think I'm the only one who has dreams that someday something they make or do will be recognized and seen by millions of people around the world. I'm not talking about a Picasso painting or Beach Boys song here. Just some recognition. You know, like Rodney Dangerfield lamented about: "No respect, no respect whatsoever."

What happens when you get too much respect? The kind of respect that takes the fruits of your creativity (or labor, whatever you want to call it) and runs off, leaving a trail of color and broken trust in its place? Well, if you are a major company and your possession is the product of some underground photographer you may breeze through the finish line faster than Apollo Ohno (there, I got my Winter Olympics reference in). Or your luck may run out and you face a public battle with a photographer who is tired of being exploited by the man.

This is exactly what transpired between The Color Run and an aspiring photographer. Color Run is a different brand of 5K race, the "Happiest" kind of 5K race. Runners are un-timed and only have to abide by two rules: (1) wear white and (2) get plastered in color. The popularity of the event has exploded faster than a magic marker left in a hot car. In only its second year, it was holding 170+ events in over 30 countries. Perhaps more than other standard, "colorless" marathons, Color Run lends itself to plenty of opportunities for tons of exciting and colorful photo opps. It only seems natural then that a photographer at one race would break out the old 35mm camera (or the iPhone or Android equivalent) and snap some worthy shots. 21 year old Florida Atlantic University student and photography club member Maxwell Jackson was one such photographer. Having captured a rather artful moment, Jackson posted the image below online. After having garnered some popularity, the images were noticed by Color Run's Photo Director, who then asked Jackson for permission to use the photos on a Facebook album. Color Run would link back to Jackson and give him full credit for the images. Seems like a pretty good deal, right?

Fast forward about a year. Jackson is walking around a Sports Authority and he notices this hidden gem.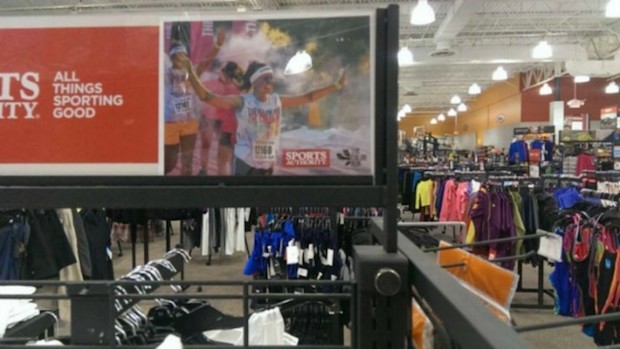 No credit, no acknowledgement, nothing. To make matters worse, other major corporations including Coca-Cola and U.S. News also used the image. So Jackson back-tracked to Color Run, the entity that originally ripped-off the image. Color Run refused to give Jackson reasonable compensation for using the images. To really plunge the knife into Jackson's back, Color Run also sued Jackson for trademark infringement ("Color Run" is a trademark, and it appears in the photos that Jackson took and distributed). Jackson being the typical student with student loan debt was naturally very distraught about having to defend against actions that he thought infringed more of his rights than the rights of the accuser.

After a weekend that saw the internet blown up with articles and tweets that saw both Color Run and Jackson trading barbs, the dust finally settled in the form of a settlement (yes, that was intentional). As it turns out, Jackson had an agreement with Color Run all along to be a traveling "team assistant", helping with event set-up (but not photography). The original photos were taken by Jackson under a limited, non-commercial access permission to photograph the event. Color Run emphasized that it had a contractual "use" agreement with Jackson to receive high-resolution, non-watermarked images that Color Run could use online or in print. So basically, because Jackson had limited rights to use the photos that he took at a Color Run branded event, he could not make the exorbitant demands that he made on Color Run (including $300,000 in damages, being named as the "Official Photographer" of Color Run internationally, and recognition on the sponsors page).

I don't know the full details of the original "contract" reached between Color Run and Jackson, but it seems like a little bit of a stretch that Jackson would relinquish all rights to any commercial use of the photographs he took at Color Run events in exchange for some recognition on Color Run's website and social media pages. After all, a serious photographer may be aware of the full commercial value of their images and be reluctant to enter into a "use" agreement for photos that were shot on a non-commercial access basis (I'm not really sure what this constitutes as photographers do not necessarily need permission from an event to take photos, just the proper release forms from people appearing in the photos).

From a copyright perspective, I see lessons for both parties here.

For photographers:
-Determine the type of access you have to an event. Just because you are shooting photos at an event does not mean that you need permission from the events' managers (this varies of course depending on the event).
-If anyone asks to use photos that you have taken, really iron out the rights that you are granting to the images. This means getting an agreement in writing, if possible. If a company requests rights to use the images for online or print purposes, the scope of the rights may be broad and rather liberal (i.e. we can grant other companies the right to use the images).
-If you are taking pictures of an event and some trademarks appear in the photos, it may be hard for you to use the photos commercially if a reasonable consumer could believe that the trademark owner endorsed or supported the picture. Editing the photo to remove the trademarks may diminish this danger. It is typically much easier to use these types of images artistically and only to describe the event or a product or service depicted in the photo.

For companies using photographs:
-The piece of advice about securing the rights to use a particular photo go doubly for you! If you are commissioning the photo from a photographer that works as an independent contractor, it is difficult to secure all the rights through what some know as a "work made for hire" agreement. Photographers don't always work directly for a company, so it is important to clearly iron out the ownership details of the image.
-If you do get the rights to a photo, make sure what you are doing conforms to these rights. If your agreement with the photographer said that the photos can be used in "online campaigns only", don't grant licenses to other parties that could result in broader uses (such as uses in video advertising or marketing brochures).