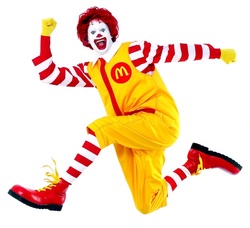 Those who watched cartoons (or who grew up in the 1990's, like me - yes, I am really that young) will remember T.V. spots from Saturday morning cartoons for McDonald's. The spots usually featured some extraordinarily absurd mismatch between kids and reality, such as having recess for every period during school and eating McDonald's at every meal (I'm sure somebody named Michelle Obama would have something to say about that). The spots always ended with a catchy little jingle: "McWORLD!!! Hey, it could happen!"
So imagine the nostalgia I felt when I saw that Taco Bell, which has announced a totally unique breakfast menu
consisting of items like a waffle taco
, was bringing in Ronald McDonald to promote its new breakfast menu. Not
the
Ronald McDonald, the one in the bright yellow suit, goofy red shoes, and the one that gives those with clown-phobia's the willies. But a person whose name is Ronald McDonald (of which there are, apparently,
many
). The idea seems clever as a type of advertisement: "Come to Taco Bell for breakfast. Even Ronald McDonald likes Taco Bell for breakfast over McDonald's".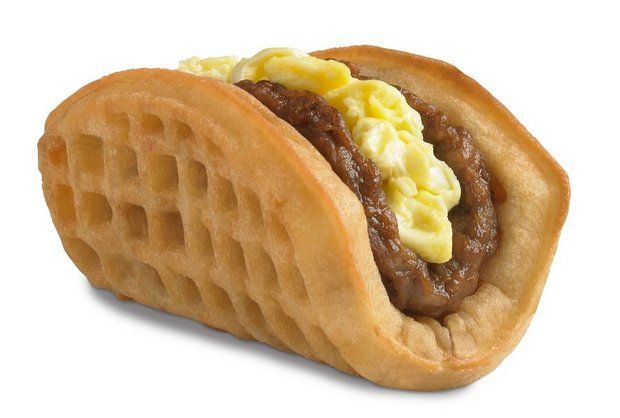 Taco Bell's breakfast menu, launching nationwide March 27, 2014, features a waffle taco filled with scrambled eggs, cheese, syrup and bacon or sausage. (Taco Bell)
This left me with one thought: Hey,
could
this happen?! That is to say, could Taco Bell use the persona of a well-known character (and also, the subject of many trademark registrations)? By using the Ronald McDonald persona and image, the argument goes, Taco Bell is free-riding on the goodwill associated with Ronald McDonald, causing consumer confusion and using "false or misleading" representations in order to sell a product. After all, an undiscerning viewer might believe there is some kind of breakfast alliance between Taco Bell and McDonalds. What if Ronald McDonald is now associated with Taco Bell, as part of some new breakfast power alliance? Such associations are common between different types of fast-food outlets (Taco Bell itself has a partnership with Cinnabon, offering the famed-sweet rolls in the
form of Cinnabon Delights
).
Not so fast though. There have to be some people in this world named "Ronald McDonald". And if they are named Ronald McDonald, what's to stop them from carrying on their everyday lives? A few of them probably even own their own businesses, which may even be a namesake. A few may be actors that star in movies or shows, or make musical albums. If a movie poster featured "Ronald McDonald" across the top and all the previews showed the name during the 2-minute clip, people probably wouldn't think twice about it if the movie had nothing to do with the fun-loving clown or McDonalds. Perhaps the case is different there because the person with the "brand" name isn't really being used to support or promote a product.
Does a commercial use of an ordinary person with a brand element in their name change things? I don't think it does if there is no possibility of consumer confusion. Apparently, the issue of using somebody to endorse a product (even when that person has a surname that is identical to a famous brand)
has come up before
. In the earlier case, Ramada Inn showed a commercial with two sets of couples (Frank and Cindy Marriot and Donald and Sally Hyatt) in a spot with the title: "Why the Marriots [or Hyatts] Stay at Renaissance". To this, the court said:
"It is obvious from even a cursory reading that they are clearly tongue-in-cheek. I cannot see that any reasonable person would be misled– even absent the disclaimer–into believing that the Marriotts or Hyatts featured in the advertisements are in any way related [Marriot Corp or Hyatt Corp]."
So there is no likelihood of confusion when an ordinary person with a surname matching a famous brand is used in a commercial for another company, simply because a viewer could see the difference between the actual brand owner and a ordinary member of the public. That makes sense. Now, put a red wig on one of those ordinary people and paint their face white (with big, absurdly red lips) and then you might have more of a case of confusion. Then I think there is consumer confusion simply because a consumer could respond to the prospect of Ronald McDonald supporting Taco Bell's breakfast like, "Hey, it could happen!"
Perhaps that is the way things would shake out if Taco Bell actually used the Ronald McDonald we all know and love (well, not those with clown phobias). But alas the happy-go-lucky Ronald was not used. Just for good measure, Taco Bell even added a disclaimer at the end of its spot saying that the people in the commercial are not affiliated in any way with McDonalds.
As for the possibility of McDonald's and Taco Bell teaming up in the future to bring some kind of american/mexican fusion cuisine, the possibility could still be on the table.
And always remember.... "Hey, It could happen!"