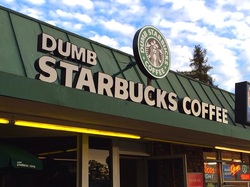 By now pretty much everybody has heard about the "Dumb Starbucks" episode, which pitted a Comedy Central personality against that oh-so-well-known coffee shop with locations on every street corner (if not,
here is a primer
). Was it a publicity stunt masquerading as satire, or was it a legitimate business engaging in an operational style that can only be characterized as avant garde? The conflict may be a short month away from reaching another boiling point (even hotter than the steaming milk that those lattes have). You see, Nathan Wilder, Dumb Starbuck's brainchild (or was it Comedy Central?) is planning on opening another location in Brooklyn soon.
In its first installment, Dumb Starbucks was shut down within a few short days of its initial opening for… health permit violations, of all things. So will the Brooklyn store manage to outlast the short lifespan of the original? We'll see, although it seems like New York City would be a place with health standards for food outlets that are as strict as those in California. I'm pretty sure the Dumb Starbucks brand will be on full display, at least if Mr. Wilder hopes to acquire the same attention that he acquired through his first store and make the same point he set out to make originally.
What was that point, anyways? I don't think anyone ever knew for sure. Was the point of the whole stunt to mock the modern, loungey setting of Starbucks locations? Or maybe comment on the absurdity of people paying a premium for something they could make themselves in a few minutes flat at their home or office, believing all-the-while that they are really better off paying? If you look at the little FAQ sheet that the original Dumb Starbucks store provided, you won't get much help there either. Instead, you get the very puzzling explanation that amounts to, essentially, the following: "We really like Starbucks, but they wouldn't let us use their trademarks, so we are just going to pretend to make fun of them by using a funny name that also includes their trademark."
Sorry, but
that's really not a parody
. A parody in trademark law usually works like this: there is an original host work (or a brand), which is very well known within a particular target audience. Another party creates some kind of a work or makes some use of the brand, either poking fun of the original work in such a way that the parodist makes a point or comments on some aspect of the original work that will resonate within the target audience. Parody is a favorite defense of many defendants who get caught with their hand in the cookie jar that is trademark goodwill. It has been popping up a lot lately (even on this blog). But you cannot simply use someone else's trademark, dress it up with some kind of humor or witty addition, and call it a parody. If the parody does not comment on the source of the work itself and instead aims to capitalize in any way on the reputation of the trademark, the parodist has put their hand too far into the goodwill cookie jar. So to qualify as a parody, you might think a use has to be really witty and creative.
Sometimes the best sort of humor is that which is short, sweet, and to the point. After all, brevity is the sole of wit. The problem with really short and witty statements is they aren't effective in all circumstances. For example, in a case involving Mutual of Omaha, a parodist took the Mutual of Omaha logo and placed the designation "Sponsored by Mutant of Omaha Nuclear Insurance Company" on a series of novelty items, apparently to express opposition to nuclear arms. But the joke was lost on the court because there was no tie-in between Mutual of Omaha and nuclear warfare that merited comment. So people didn't get the joke at all. What's more, people could have believed that Mutual of Omaha was the real source of the novelty items.
The parody used by Mr. Wilder in the case of Dumb Starbucks is indeed pretty short. Wilder merely added the word "Dumb" and didn't do much else to comment on Starbucks as a company or the impacts it has on the marketplace. Instead, "Dumb" was held out by Mr. Wilder as enough to "make fun" of Starbucks. Moreover, when you hold a trademark owner and the product they sell in high esteem (as Mr. Wilder admits in the FAQ), it is really hard to poke fun in a meaningful way, that is, in a way that critically comments on a trademark to the point that the parody is distinguishable from the real trademark. It may be through some kind of a pun (as in the case of "Chewy Vuitton" for dog toys) or it may be through a combination of a pun used in connection with goods that are completely dissimilar (as it was a case where Sears was sued by the Japanese company with rights to the term Godzilla, when Sears used the word "Bagzilla" for garbage bags). Someone might find use of the word "Dumb" humorous and they might believe that Starbucks would not characterize itself as dumb, thereby preventing a likelihood of confusion.
Even assuming that simply adding the word "Dumb" to a well-known mark is enough to produce the requisite element of satire, ridicule, or amusement, it's the other aspects of Mr. Wilder's use of Starbucks' trademark that fail to make it a parody:
1. Dumb Starbucks store sells coffee and beverages (whether the coffee beans are from Starbucks is of no consequence, I think)
2. Dumb Starbucks is being used to designate the source of Mr. Wilder (or Comedy Central's) own goods or services (this goes to the fact that the whole stunt appears to be an advertisement for Comedy Central,
at least some believe
)
3. Dumb Starbucks lacks any apparent intent to distinguish itself from Starbucks. Indeed, the owner of Dumb Starbucks says they "admire" Starbucks.
I hope that Mr. Wilder and Comedy Central decide to make some changes. Unfortunate for them, they are going to have to change their entire business operating model, as in not using Starbucks' logo. Either that, or they need to change the way they use Starbucks' trademark. But "We aren't really Starbucks and we think people who go there are coffee freaks" doesn't quite have the same ring.