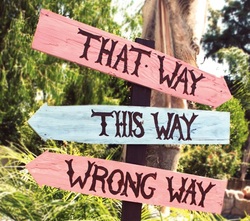 So Hobby Lobby. I'm sure you've heard of it. Its this big-box craft store that sells everything from fake hibiscus to jelly beans, all with the goal of giving those who enjoy crocheting and decorating something to do over the weekend. But have you heard of Hobby Lobby International? No, not the same store. Hobby Lobby International, as in the store that sells only remote control "crafts", the kind that boys big and small pine for as a form of alternative to the bigger, expensive versions. I had never heard of it either before today, although it sounds much more exciting than Hobby Lobby, the full arts and crafts store (because I just happen to be one of those guys that likes the RC stuff).
Apparently, Hobby Lobby International (the RC store, which I will simply refer to from here on out as "HLI") has been around longer than Hobby Lobby Stores ("HLS"). About 8 years to be exact. HLI opened its first shop in Tennessee in 1964 while HLI opened its first store in Oklahoma in 1972. Over the years, HLI grew from a single-retail store location to a thriving mail-order and online retailer business, with sales of at least $9 million. The same family owned HLI until 2003, when it was sold to a private equity firm. In 2009, a local business guy, Mark Cleveland, bought the company with goals to expand operations across multiple stores and sell more radio-controlled products (
yeah, he's one of those small-scale, big-boy toys kind of guys, too.
).
How could two companies, in virtually the same industry group, through practically the same avenues in the marketplace, reaching potentially overlapping consumers exist side-by-side for all those years without any kind of problems or misdirected consumers? Well, apparently they didn't, or at least nobody cared until Mr. Cleveland took over in 2009. Thereafter, problems seemed to pop-up like miniature RC helicopters flying around the room: customer complaints and inquiries directed to HLS, mis-directed web traffic, confused female customers who showed up to HLI stores looking for yarn instead of electronics, and so on. Given its smaller size and scale of operations, HLI took the brunt of the misdirected consumers, getting stiffed on keyword advertising on the internet and angry, confused customers who just wanted to buy wicker baskets.
This is a classic case of what us trademark attorneys call "reverse confusion". Reverse confusion occurs when one business (the junior user) uses a trademark that was first used by another business (the senior user) and where the junior user becomes more well-known than the first user. In regular consumer confusion (no, it isn't called "forward confusion"), a junior user is confused with the senior user. In this case, in essence, the junior user is free riding on the reputation of the senior user. In reverse confusion, the senior user loses the opportunity to control its own reputation and goodwill because the junior users swamps the market with its advertising and sales, so much so that consumers come to believe the senior user of the trademark is actually the junior user. In essence, then, reverse confusion occurs when a more powerful company uses the mark of a smaller, less powerful senior user.
Here we have HLI (the first user of the HOBBY LOBBY trademark) being confused with HLS. Because HLS is so huge, HLI is essentially lumped in with HLS, making consumer confusion a virtual certainty. This is a huge problem if HLI wants to expand its operations because any location that it wants to expand to that also has an HLS store will just result in more misdirected consumers and frustration. This is an even larger issue for companies that rely heavily on the internet (or who want to expand their operations on the internet) because, unlike with brick and mortar stores, it's generally harder for consumers to distinguish between two different stores on the internet if those stores share the same name.

In cases of reverse confusion, one might say that it is its own worse enemy, and by that I mean that the original user ultimately dooms its trademark because it fails to get a hold on the later user before that later user becomes this all-consuming market force that casts a shadow on the original business. But what is the original brand owner to do? They were first, fair and square. They may have even had a trademark registration and may have been well-known in their home market. They were doing everything a good trademark owner should do to build a good brand. And to them, that seemed like enough.

The thing is, in this age of the internet, where so much buying and selling takes place on the internet and where it is almost imperative for a company to have some kind of online presence, just having a trademark and using it on your store and other stuff (like sponsoring local community events) may not be enough. It is definitely not enough if the company you are trying to take on is a global behemoth that has a huge marketing budget and a nationwide chain of stores. It's a numbers game, you see: even if Company A came on the scene before Company B and did everything it thought necessary to get the trademark, Company B could swoop in and by sheer financials and heavy spending on the right things build up a stronger brand.

"What a tremendous injustice!", you might say. It can't all be about the money though, can it? Actually, it can. The thing with trademarks, which are practically the quintessential symbols of commerce, is that you have to both use the trademark actively in commerce and be diligent in enforcing your rights to the trademark. Once you get that registration, you have to be as keen as a watchdog, monitoring the trademark office for other companies that try to file trademarks, surveying the market to find copycats, and making sure your mark gets out in front of the consumer. That way, when the slightest hint of some "funny business" arises, you are on top of it. If you don't do this? Well, you risk losing your mark to a stronger user and face a protracted and expensive fight to win the mark back, especially if you find yourself duking it out with an outfit like Hobby Lobby, the veritable Goliath in the arts and crafts arena.

Don't get me wrong, what HLS did is totally wrong. They are still considered infringers in the eyes of the trademark laws because they used a trademark that was already claimed by someone else for services that overlap with the earlier user's. All I'm saying is that, practically speaking, it is way more difficult for a small company to keep a trademark that another company appropriates, if the appropriating company is huge. Look what happened here: HLI, being outmuscled by HLS and being unsuccessful in attempts to set-up a kind of co-existence agreement with HLS to allow both companies to operate their stores concurrently, was forced to rebrand. HLI assigned its trademark rights in HOBBY LOBBY to HLS, perhaps in exchange for money from HLS to rebrand. This looks much better than having to take the whole things to court (which I'm sure HLI lacked the financial resources to do). But it came at a price: rebranding is, after all, a headache and it can take many years to rebuild goodwill, which is a cost that the other side cannot necessarily be held accountable for because it is hard to put a dollar value on slow market adoption of your trademark.

The morale of this story? Being the first to use a trademark is not necessarily the be-all-end-all. Other market forces can rise up, take your trademark, and run with it. Trademark management is an all-or-nothing game, and you have to be prepared to go to the mat for your brand. That way, you can nip problems of reverse confusion in the bud. And if you can't? Maybe you can be fortunate enough to run up against a party that is large enough (and willing) to help you rebrand. Even then, you may be starting back at square one.