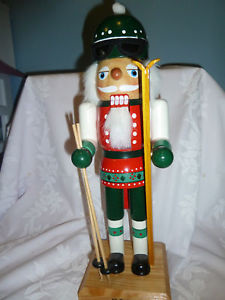 As if everyone else hasn't already had enough of winter, I thought I would throw a little Christmas cheer into the mix just to remind everyone that the holiday shopping season (which seems to move up a few weeks each year), is only like 6 months away. We're halfway there, which is great if you are a retail store or manufacturer of electronic goodies because that means you have a little bit more time to fine-tune your next big release and marketing campaign in time to cash in on the big rush.
What boggles my mind is that there are some companies that actually dedicate their entire existence to Christmas and selling all the related wares like tinsel, strings of lights, ornaments, and (of course) Christmas trees. I'm not knocking these stores at all; if you can make a business successful (l
ike this company in Michigan has done
), more power to you. Christmas is a time of happiness and cheer, a time for giving. So how did a nutcracker, perhaps one of the quintessential décor items of Christmas, find itself in the middle of a fight? No, not the fight between Clara and Fritz in
The Nutcracker
play, but a knock-down, drag-out, spare no expense battle over
copyright?
Yes, you heard me right: copyright. Here's a little backstory to add some Christmas sparkle. Old World Christmas (OWC) is a year-round Christmas store that sells, as its name not-so-subtly suggests, Christmas décor and related products through showrooms in Atlanta, Law Vegas, and Dallas. A while back, OWC contracted with this company in Georgia to design and manufacture a nutcracker. Besides looking very nutcracker-ish, with a tall body mounted on a pedestal, large hat/helmet, and white hair protruding from under the hat and under the mouth, OWC's design incorporated skis and poles. The nutcracker, eponymously named "Alpine Skier," was also registered with the U.S. Copyright Office. That was in 1998. The contract between OWC and the supplier eventually lapsed. At some point, according to OWC, this supplier began making a nutcracker with a substantially similar design for Gump's Corp., a novelty-company in San Francisco, also a purveyor of fine Christmas décor (although not exclusively Christmas). OWC filed suit against both the supplier and Gump's alleging copyright infringement, seeking damages and injunctive relief.
Here are the two nutcracker's, side by side. Can you spot any differences?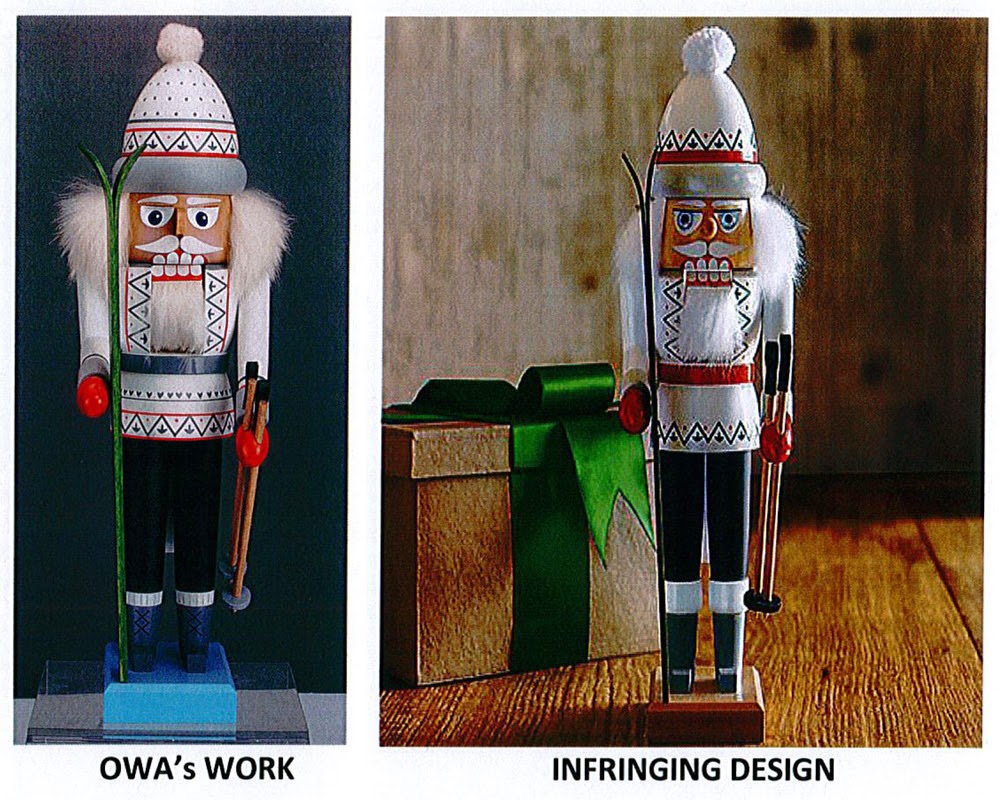 To make this easier, let's number each feature that varies between the two designs (kind of like that game, spot the differences!):
1. The overall design of Gump's nutcracker appears more elongated and taller than OWC's design.
2. The white hat on Gump's nutcracker is a little more elongated and does not contain the same design pattern (the pin dots and green/red striped lines) as OWC's nutcracker does.
3. The eyes of Gump's nutcracker are blue with black pupils, while OWC's nutcracker's eyes are black.
4. The face of Gump's nutcracker appears a little more red whereas OWC's is a solid natural wood color.
5. The waistband of Gump's nutcracker is red; OWC's is green.
6. Gump's nutcracker's boots are taller and have more shearling fur than OWC's.
There are some similarities between the two that are pretty easy to pick up including the fact that both nutcrackers have a substantially white outfit, the basic pattern on each white outfit matches, and both nutcrackers are carrying skis. Just based on an initial glance, you might say "Sure, these look alike. OWC has the copyright on the design, and it is certainly a work of art in some sense because it looks nice and took a lot of creativity. Show OWC the money!"
That might seem like the right result here at least because OWC's specific design is original, it isn't functional (nutcracker's do not have to be white and carry skis in order to fulfill their function), and it falls under one of the categories for copyright protection (sculptural work). But we as lawyers have to dig a little deeper into OWC's claims to see if they are trying to bite off a little more than they're entitled to. In a copyright defendant's vernacular, this is called invalidating the copyright, and it is often a starting point in many copyright litigation matters.
To analyze the validity of a copyright, a lawyer often looks to the copyrighted worked to determine if there are elements of the work that cannot be claimed. If, for example, you claimed a copyright to a story involving a superhero that masquerades as somebody else and wears a costume (pretty much every superhero you can think of fits this bill: Batman, Superman, Spiderman, etc.), your copyright extends to the actual written words in the novel, the dialogue, perhaps even the specific characters. But your copyright doesn't extend to the more basic idea of a superhero saving the world as a general theme in a book.
That
is something a little more abstract and probably something that is not original to you. Lawyers know this well, it's clearly written in the
Copyright Act
.
Where the question of separating ideas from copyrightable elements is particularly interesting is in cases where expression for a particular idea is very limited. The logic works like this: if an idea is inextricably mixed with a method of expression such that there are few ways to convey the idea, one should not be allowed to prevent others from expressing the same idea. In other words, the expression isn't really that original or creative. This concept is called "merger" and it pops up frequently in cases where borderline copyrightable elements (such as catalogues and menu interfaces for computer software) are at issue. The more exciting (and difficult) cases of merger arise in cases of product or apparel designs. In one well-known case, a jewel-encrusted pin in the shape of a bee was held not to be protected by a copyright because there were only a limited number of ways in which a jeweler could create a bee-shaped pin. In the court's reasoning in the bee pin case, if you were to incorporate a bee design into a pin, as a designer you were pretty much limited to a few choice designs.
But wait. There's tons of ways to make a jewel pin that incorporates a bee design. You could add different color jewels for the body of the bee, make the bee an odd shape, etc. True, but the idea of combining a bee design with a piece of jewelry is what the copyright owner in that case was after. He wanted to prevent all other people from ever creating a piece of jewelry that contained a bee design, no matter the configuration of the different elements in the pin. That is what the court rejected.
So how does this translate to OWC's claim regarding its nutcracker design? In this case, OWC's big bite raises the question of merger. If I were Gump's attorney, my attention would be focused on what exactly OWC's copyright extends to and whether this claim includes the idea of a nutcracker skier itself or just specific elements of nutcracker's clothing design. If the former, then I think OWC has problems. Clearly, if you were going to make a nutcracker that was designed to emulate a skier, you would have to include things like skis and poles. For most configurations (for reasons of space constraint and to match the traditional vertical orientation of a nutcracker and accessory features), it makes sense to have the nutcracker holding these elements. Also, all nutcracker designs generally incorporate a hat with a white tip, a jacket, and pants. So just looking at the basic design of a nutcracker holding the skis, OWC doesn't have a strong claim to a copyright because we are only dealing with ideas and common elements of expression. Accordingly, these elements will probably be disregarded by the court in comparing the two nutcracker designs.
Where OWC will probably prevail, however, is in its claim over the design of the jacket and hat. There is not generally one common way for designing nutcracker garb. Indeed, this is probably the only place where a designer could get creative in designing a nutcracker (apart from including really unique accessories). If these elements of the design are being claimed by OWC, then it probably has a much better chance of asserting a copyright in its nutcracker design. If it tries to reach too far and claim a copyright in the whole idea of an alpine skiing nutcracker, then it could be in for a wipeout.
Just as one must be careful on the slopes when two trails merge, OWC ought to be careful about what it claims as its copyright in this case (you know, so the expression doesn't merge with the design).