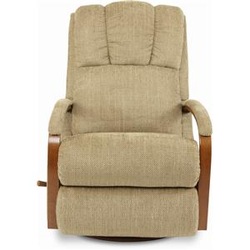 There comes a time in every company's life where it just has to take a step back and figure out how to remain relevant or how to create a new realm of relevance entirely. For La-Z-Boy, that time is apparently right now.

When most people think of La-Z-Boy, they probably think of the eponymously named reclining chairs that seem to swallow their inhabitants whole in an all-encompassing air of comfort. You might also think of your old man, sitting in front of the T.V., controller and potato chips in hand, spilling crumbs all over the seemingly implacable leather grain of the recliner.

And therein lies the current predicament of La-Z-Boy: distinguishing itself as a company that provides more than just recliners for older folks. It's a problem that touches more than just product design and marketing plans, it touches the entire brand. As La-Z-Boy ramps up a marketing plan to make itself relevant to millennials, it is probably also sizing up the issue of how to associate its LA-Z-BOY trademark with more than just recliners. And, of course, I'm sure La-Z-Boy doesn't want to go the way of Zamboni, Yo-Yo, or Thermos, all of which are now generic trademarks, a problem it could very well face if it doesn't branch out and make its mark a little broader.

Or is that even the issue? Does a company have to adopt a group of different, unique marks to avoid association with a single product (and thus the problem of genericide)? Maybe not, if the company can successfully win the battle of public rhetoric and the tendency of many consumers to associate a company with one main product with a single name. But this has been hard to do for many companies where they are forced to combat the ever-powerful marketplace, which may be even harder to sway than public opinion during a political campaign.

History is littered with many companies who, having dominated the market for a particular product under a single overarching brand, have found themselves battling to keep their brand from crossing that generic line. Xerox, the maker of copy machines, made nothing but photocopiers from the 1960s through the 1990s when it began developing integrated copiers/printers/fax machines and offering print-on-demand services. Because it had such a stronghold on the market for copiers (indeed it was sued by the Federal Trade Commission in the 1970s for anti-trust violations, being deemed as garnering too much power in the area of copiers), the XEROX name became a natural analogue for photocopiers. Around the office, "Xeroxing" became parlance for referring to "copy". Xerox has been engaging in a furious campaign to protect its trademark ever since,
taking out ads in magazines
and appealing to the charitable side of consumers to "help your fellow corporate behemoth out".
Rollerblade had a similar issue when it first rolled out is unprecedented skate in the 1980s, combining shoes with wheels in a straight line, a.k.a. "in-line skates". Granted, Rollerblade doesn't just make in-line skates, they also make ice skates, helmets, protective gear. These products aren't exactly enough to break the perception that Rollerblade is synonymous with in-line skates and consumers probably equate the brand to just that. But Rollerblade is a hip and active brand, having wide-appeal to young and old consumers alike. For Rollerblade, the problem was stopping consumers from using the name ROLLERBLADE as the name of the product itself. They succeed, partially, in educating consumers about the proper use of the ROLLERBLADE trademark,
but not before "roller-blading" caught on with the kids as a verb
(and adults, too, who sought to spoil the roller-blading fun).
Both Xerox and Rollerblade, even if they now face the issue of consumers interchanging the brand name for the product, were able to move past the issue of single-demographic association. Xerox is now widely known as an office services company, providing a comprehensive set of printer products and printing services,
even H.R. consulting and recruiting
(who would thought that could happen?) And Rollerblade has diversity in consumer groups, evidenced by the fact that there are tons of in-line skate clubs with all kinds of members, from young to old.
La-Z-Boy has both the problem of product-brand naming cross-over and it has the brand perception problem. While it has a long history as a furniture manufacturer having started in 1928, it spent over 40 years manufacturing recliners exclusively. Starting in the early 1970s, the company started making sofas and sleep sofas, gradually growing to $2 billion in sales in 2000 and becoming one of the top furniture makers in the U.S. But even as late 2006, despite all the acquisitions of competing furniture makers and the diversification of its product lines, La-Z-Boy still struggled with the stigma of being a recliner company above all. And yet even as La-Z-Boy struggled to convince consumers that it was more than a recliner maker, it fought on a different front to make its recliners seem more hip, by offering different designs and more luxurious upholsteries.
Now the company is attempting to
take a macro approach to rebranding
, creating lifestyle brands and taking the focus off of recliners entirely. Such an approach might work to counteract the marketplace viewpoint that La-Z-Boy and recliners are synonymous, but it will be a hard image to overcome. But if La-Z-Boy was a victim of its own long-standing history in 2006, it is likely to be an uphill battle now.
The point? Xerox, Roller-blade, and La-Z-Boy all have a similar problem: they all are grouped together with a main or featured product. As the company markets its products to consumers and uses a single name, perhaps also failing to inform consumers that the brand is not the product name, it becomes harder to turn the tide of marketplace perceptions. A problem that seems distinct to La-Z-Boy only because it wants to diversify outside a single featured product is something I will call brand monogamy (hopefully you can get past the zoological meaning of that word); it is defined like this: when a company uses a single brand in the marketplace and sells one main product under that brand for a long period of time, consumers may come to understand that the brand name is
exclusive
to that particular product. A company might break this brand monogamy from using one brand as a parent and sub-brands in connection with specialty products. In this case, La-Z-Boy could have made the decision during that first 40-years (preferably shortly after the founding) to make La-Z-Boy the parent brand and use a sub-brand for its recliners (maybe something like "Lounge" or "Arc"). Under that strategy, consumers may identify La-Z-Boy not with a recliner, but as a maker of a line of LOUNGE or ARC recliners. La-Z-Boy might have considered diversifying its product base, or at least partnering with another company to create a line of products that is distinct from recliners to avoid brand monogamy.
Don't get me wrong: La-Z-Boy is a great model of how to make a brand dominant for a particular product category. The point of this post is to highlight that companies can become a victim of their own brand dominance and become affiliated with a single product if the company doesn't plan their branding with a view to the long-term and take steps to diversify the brand.