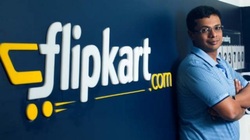 One of the things about being a brand owner is that you have to play hard ball sometimes, or at least that's what most prudent trademark lawyers would advise. But you can cross the line, especially when the enforcement action you are taking is aimed at the wrong target.
Straight out of the book of
Tales of Trademark Bullies
is another case of a brand owner throwing its weight around and quashing all potential threats like Styrofoam cups (yes, Styrofoam is
indeed a registered trademark
). FlipKart, an e-commerce company from India that operates an online megastore selling everything from baby bibs to barbeque grills, has made quite a name for itself since launching in 2007. It is peddling itself as an alternative to Amazon, at least outside the U.S.
But Amazon is still king in India
, apparently.
Regardless, a company with a name like FlipKart is probably going to defend it pretty vigorously, and have a lot of success to boot. Not many everyday Joe's are going to challenge a company's claims when their attorneys come knocking.
Much like SnapChat
, FlipKart is one of those stronger marks, you know,
the ones that are distinctive
because they do not describe the goods or designate a category of products. From the beginning,
the idea was to have a catchy name
suggestive of the features of the service with staying power in the minds of consumers. Of course, being able to register the name under the .com TLD was key, too!
So when a blogger registered the domain name "amazonvsflipkart.com" and used it to host a survey comparing services offered by Amazon.com and Flipkart.com, FlipKart flipped a lid. In FlipKart's eyes, the website was just too much of a good thing in an online world that thrives on consumer feedback and transparency. As a spokesperson said: "We respect the right to freedom of speech and endeavor to carry out research and polls. However, the legal notice was issued in the interest of safeguarding our goodwill, brand and trademarks." Clearly, FlipKart's concern was for the wrongful associations consumers *might* make between the website and FlipKart. One burning question I have: why wasn't Amazon also upset? After all, it faced the prospect of incurring just as much damage as FlipKart.
But what is the harm in such a domain name? It seems to me another form of harmless comparative advertising which, of course, is a perfectly acceptable nominative use of trademarks (Pepsi v. Coke, anyone?) Such uses of trademarks in domain names have to be evaluated according to their impact on the association between the website and the trademark owner. Often times, this analysis centers on how the trademark is actually used in the domain name and the appearance of the website. Any sensible consumer would understand the purpose of FlipKart's appearance in the mark and would not be deceived by use of the mark in the domain name. First, would a consumer actually believe that FlipKart developed the site for the purpose of measuring consumer feedback on FlipKart's own site? Using a FlipKart logo, prominently featuring it near the header of the page, and using text like "Help rate FlipKart against its top competitor", where FlipKart appears first in the statement could cause consumers to believe that FlipKart
is
associated with the website. Second, does use of the FlipKart mark in the domain name impinge on the goodwill of the FlipKart mark by attracting visitors to the page and influencing some kind of buying decision? Here, there was no commercial prompt on the website; consumers were prompted to vote on the desirability of one site over another. The name may have attracted consumers to the site, but the purpose of the use of FlipKart's mark in the site was to literally describe the activities taking place on the site, namely, comparing the services of two different websites.
And this is exactly how court opinions on use of trademarks in domain names have shaken out. Indeed in a case out of my own home state, a court found that a gripe site started by a former insurance agent to criticize a former employer (
www.avivauncovered.com
) did not meet the commercial use standard under the Lanham Act because there was no sale, offering for sale, distribution, or advertising of goods or services where use of a mark was likely to cause confusion. Without a commercial use of the mark, there is no obligation to protect consumers that have formed particular associations between the mark and a specific source.
Without a commercial use requirement, the Lanham Act and its prohibitions on the use of a particular word in a specific context would impinge First Amendment rights by preventing any uses of a trademark, even if the use was merely communicating ideas or expressing points of view. A comparative survey seems perfectly aligned with an act of expressing points of view.
Morale of the story: if a trademark owner is going to strong-arm a person that is using their trademark, they should check and double check that the use is not in fact "okay" and won't result in any kind of damage to the company from direct commercial sales flowing from the website. Otherwise, a company could be facing a public affairs nightmare through its derogatory "trademark bully" label.